ÉLÉVATIONE™ is proud to introduce the Neck Perfecting Device for home use, part of our SCULPTURA beauty device collection. Use it regularly to reduce the appearance of double chin and wrinkles while stimulating skin rejuvenation.
Three Treatment Modes The Neck Perfecting Device offers three treatment modes. Regular use will result in the reduction of a double chin and visibly improve the appearance of wrinkles, all while stimulating skin rejuvenation.
1st Mode - Massage Mode
The massage mode is designed to work with tired looking skin. It has the power to energize and add vitality to the skin's appearance. Massage mode can also help your skincare products absorb more quickly and efficiently into the skin.
2nd Mode - Blue LED Light & Cooling mode
This mode cools the skin below room temperature. The cooling effect, together with the blue LED light, lifts and tighten the appearance of your skin, while also helping with various skin concerns including Edema, muscle fatigue, and dark circles.
3rd Mode - Red LED Light & Heating Mode
This mode combines heat together with red LED light to repair and revitalize the appearance of the skin while reducing the appearance of fine lines and wrinkles. This mode also helps increase blood, circulation and will help reveal a youthful glow and radiance with each and every use.
Apply your favorite skin care products to neck
Press and hold the On/Off/Modes button until the device turns on
The device will cycle through Normal, Cold and Hot modes automatically
To manually set mode, press the On/Off/Modes button to change to your preferred mode. When finished, hold down the On/Off/Modes button until the device turns off. 5. Wipe the device clean and return to base for charging.
The massage head is designed to perfectly fit your neck and face. The fishtail handle is designed to fit comfortably in your hand.
Normal mode is used to massage skin and improve skin vitality
Cool mode uses a blue light and is 6-10˚C cooler than room temperature.It is used to refresh skin and prepare it for the next mode. Additionally it may assist with muscle fatigue.
Hot mode is indicated by red light and is about 40˚C. It is used to stimulate blood circulation, repair and revitalize skin, promote skin product absorption, reduce wrinkles and reveal youthful radiance.
Fully waterproof
Improved USB charging technology, can be charged directly or through base.
Automatic mode switching function changes from Normal > Cool > Hot every three minutes. Automatically shuts down after Hot mode. Can also manually switch mode by pressing the On/ Off/Modes button.
Designed for home use. Suitable for all skin types and people of all ages.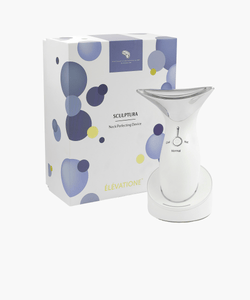 SCULPTURA Neck Perfecting Device